Franchise marketing is very complex when it comes to marketing for different locations. On one hand, you have the added headache of targeting for different locations, and on the other, you have to ensure copy is always done to the highest standard. This tends to be a big issue in social media marketing and developing the proper co-op marketing plan.
For franchises, this poses a large issue that has to either be addressed in one of two ways: training a social media marketing department for the company or outsourcing to a social media marketing agency.
This leads to many challenges that take a substantial amount of time to solve, mainly which agency is best for what I need in the franchise? One of the best things about outsourcing to a dedicated social media marketing or co-op marketing agency is that you don't have to go through the hassle of finding those dedicated employees to handle all of the digital marketing.
Fortunately, agencies like us at Libra Web and Marketing are here to ensure that you have the right kind of marketing for each of your locations.
Specific Targeted Ads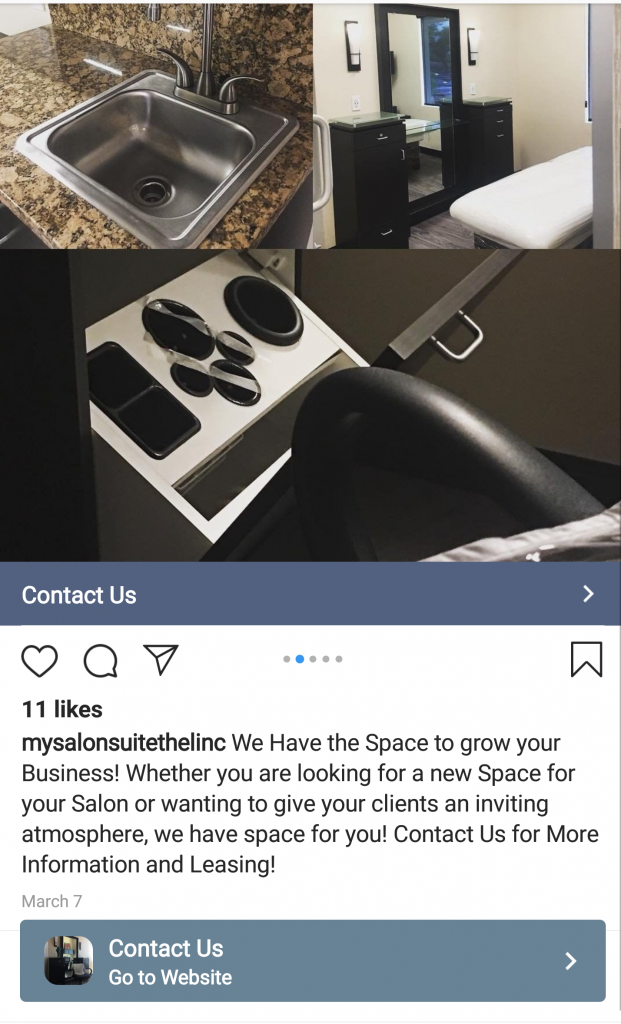 Running ads for multiple locations can become a huge issue. Unfortunately, that means a decision must be made on the approach to having the social media marketing aspect covered. With an agency like ours at Libra Web and Marketing, we understand the importance of running ads for franchises.
Having multiple locations means you cannot just send the same audience to hundred's of different locations, you have to have them unique to each, this is one of the biggest struggles of franchise marketing.
When we are running ads for franchises, each audience is different per each location. Keeping in mind that the targeting method is similar, but each is constructed specifically to each location. This gives your franchise owners a custom catered experience that is unmatched in the social media marketing world.
With Co-op marketing, it can sometimes be tricky to ensure that you aren't just delivering random ads and audiences to your franchise owners. This is where we come in to ensure the growth of the franchises while helping build your branding effort through the successes of the franchises.
Pairing Social Media Advertising with Industry-Leading Social Media Management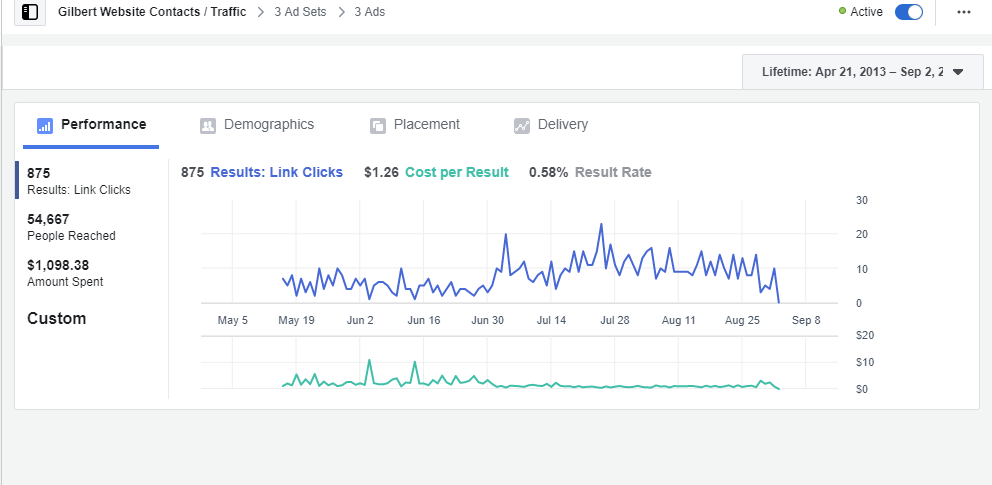 Results are something that every business owner is all about. Having the results to back your franchise marketing efforts give the franchise owners something that they are able to see in front of them.
Social media advertising and social media management (Learn More about our Social Media Services) are two of the services that Libra offers for franchises that help elevate their digital marketing plans. When you are sending advertising through social media channels for your franchise, it is crucial to have the perfect one-two punch of social media, with social media management.
Taking a look at our image above, this is from one franchise of the My Salon Suite company. We were able to start working with them from May until early September of 2019, through there we were able to keep their CPC low, with nearly 1000 link clicks. Their franchise was able to completely fill each of their suites, which this was able to be replicated by every My Salon Suite franchise partner that we've worked with.
In practice, we've been able to pair the combination of social media marketing with social media management through various locations in the My Salon Suite company. We've worked with multiple locations in My Salon Suite and Salon Plaza. Through this, we've formulated the perfect audience to advertise to for any location, which will give each of the franchise owners a better ROI, while offering company-wide solutions to maintain the perfect balance of branding and marketing to build each location, and give that bottom line a huge boost.
Franchise Marketing Done Right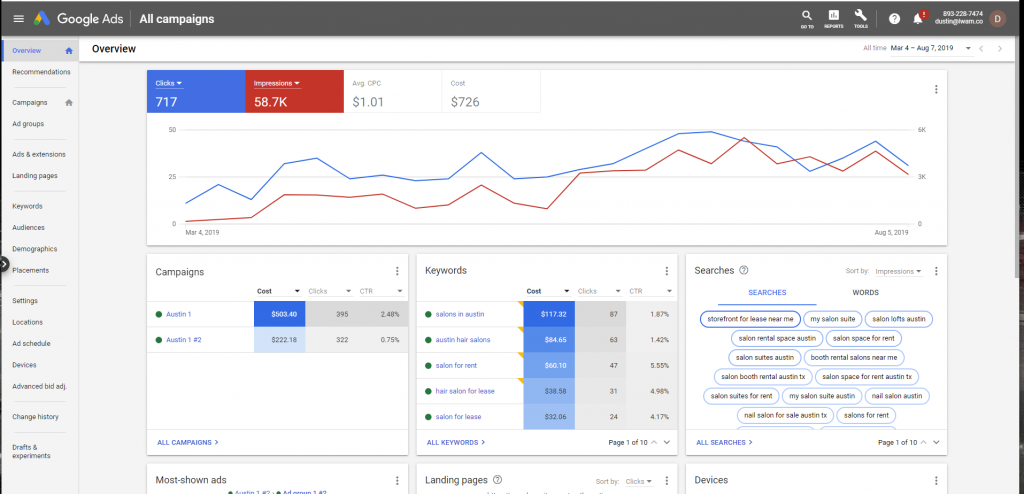 When marketing for an entire franchise or even locations within a franchise, there has to be a different approach.
You have to target precisely the audience that the franchise is looking for, their ideal client. Which where the ideal client doesn't change, the location that you are advertising does, as well as how to market to a different location.
Libra has formulated exactly how to carry out the successes of one location and translate that into numerous locations across the entire company. This goes well not only for a company like My Salon Suite that we are delivering ads for, but other franchises that want an all in one solution to their social media and google ads needs.
We've been able to revolutionize the social media marketing for franchises and businesses alike, and we want to continue to help build brands day in and day out.
Scalable Social Media Marketing Results

Results are what 99.9% of business owners look for. We are in a day and age to where the complex lingo and algorithm talk isn't what you want to hear.
As a business owner or executive, you want to hear about results.
Social media marketing when doing so for franchises is something that can be hit or miss if done improperly. However, Libra has found the perfect solution for this dilemma that most franchise marketing plans have.
When working with My Salon Suite of New Braunfels, TX, we have been able to get considerable results. Considering this franchise owner didn't do any social media marketing before February of 2019, we have been able to completely revolutionize their location. With the results measuring in an under $1.50 CPC and bringing their occupancy from the new location from 50-60% to higher than 90%.
Plus, the branding efforts that we've been taking charge of has continued to create the perfect environment for growth to continue with our services. This result has been a benchmark for every My Salon Suite location that we are working with, bringing results across the board that can be scaled.
Co-Op Marketing Revolutionized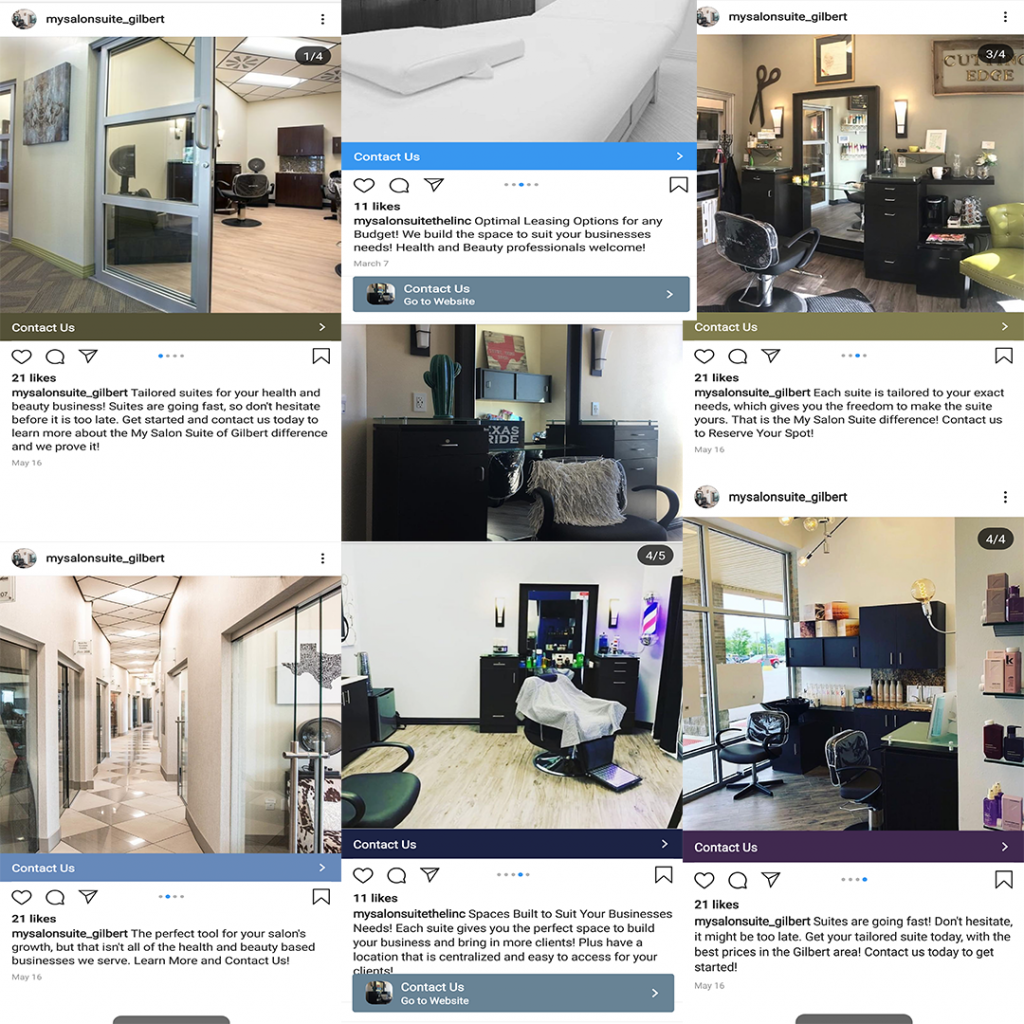 Most of the time when you are working with multiple locations, you get mixed results. Which is where us at Libra Web and Marketing Solutions takes a step in the right direction for you.
We take the same mentality of working with businesses with single locations and apply that to our marketing efforts for franchises. Social media marketing doesn't have to be a hassle since you have more than one location.
Luckily, we are able to provide the same quality of service to you, without seeing those dreaded mixed results. We've even built a franchise-specific marketing plan and pricing model that takes your locations into account while bringing you industry-leading service and results.
Next Steps
For franchises and businesses, we want to help you grow your social media marketing and social media management plans. We have the customized solution for Franchises specifically that is designed for you to get the best bang for your buck, especially with multiple locations.
Take the next step in franchise marketing, contact us here.